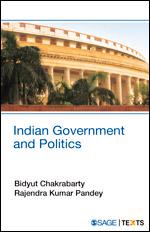 I didn't pay attention to Civics class in school, so it was time I revisited the syllabus and found out how the Indian government worked. This interest was triggered by the Aadhaar case, and also by my attempt to understand where the ISRO WikiProject lies in the larger Indian government system.
I decided to get Indian Government and Politics from SAGE publishing because I read somewhere that it was a textbook for UPSC exams (of which I learnt more in the book). I supplemented my reading with an entertaining YouTube series called Consti-tuition hosted by Meghnad. I even got a subscription to Newslaundry to access the bonus content.
The video series and the book covered what the constitution said, and what reality is like. This was important for me as it helped me learn where the system fails and what kind of structures are made ad-hoc to deal with it. As Dan Kaminsky points out, this part of my learning will go on for much longer, maybe forever.
I'm increasingly thinking that every functioning system has two forms: The abstraction that outsiders are led to believe, and the reality that insiders actually and carefully operate.

You don't incrementally learn a system. You eventually unlearn its necessary lies.

— Dan Kaminsky (@dakami) January 17, 2018
It also gave me a lot of new WikiData projects ideas. The first one being to visualize the national political parties and their ideologies. I'll be working on more as time permits. Click image below for the Wikidata query.
This book was a good first step to learn the system and it's lies. It seems pretty complex, and I know I've only scratched the surface, but at least I've begun to understand something… the me in school would have understood nothing, even if he did pay attention.